About Us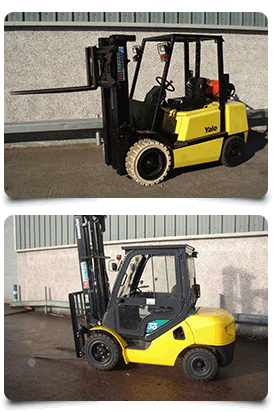 Our full range of products includes new and used Diesel and Gas forklifts and also a full range of reach trucks and articulated trucks. Each of the above fork truck options offer the customer individual benefits regarding operating environments and potential storage possibilities. Munster Forktruck has the experience and expertise to advice you on every aspect of your application and offer you a product most suited to your individual needs. Warehouse racking systems and layouts can also be offered should this be required and we can again advice you on the best layout to maximise your storage potential.
We are also Irish agents for the Danish built Logitrans range of warehouse equipment. Logitrans offer a wide range of manual and powered pallet trucks, stacker trucks and scissors lifts. All of which can again be built to individual specifications and requirements. Logitrans also offer this equipment in semi stainless steel and 100% stainless steel options and explosions proof options are also available. Again Munster Forklifts experienced staff can advice you on the equipment most suited to your requirements and on site visits can easily be arranged.
Added to the above extensive list of equipment Munster Forktruck can supply the Cork market with a full range of forklift accessories. These include various attachments including barrel, bucket and carpet attachments and also container loading ramps are available.
Thank you for visiting our site and should you have any further questions please do not hesitate to contact us.